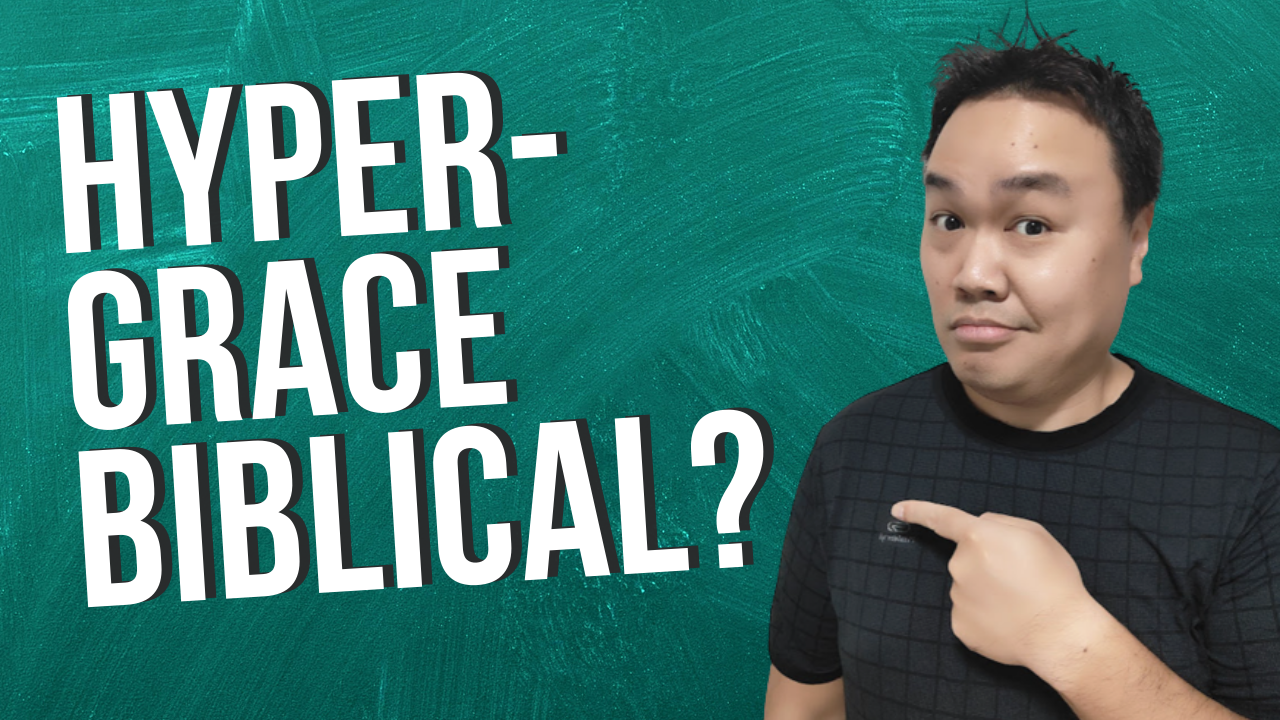 The term "hyper-grace" is a theology teaching that emphasizes the grace of God and excludes any important teaching such as repentance and confession of sin.
Hyper-grace teachers maintain that all sin, past, present, and future, have already been forgiven. Therefore, there is no need for a Christian to even confess it. Which is a problem which we will explore here why.
Hyper-grace teaches Christians are not bound by Jesus' teaching in some cases, even though they know we all are under the Law of God as it was written in the Bible regardless if it's written in the New Testament or Old Testament.
To put it simply, hyper-grace teachers perverts and emphasize grace so much to the extreme that it sometimes even encourages Christians that it is alright to sin without any judgment or consequences from God.
Does God Still Require Us to Repent Today?
In the book of Revelation, Jesus' words to the seven churches strongly contradict this big idea that Christians never need to repent.
" Yet I hold this against you: You have forsaken the love you had at first. Consider how far you have fallen! Repent and do the things you did at first. If you do not repent, I will come to you and remove your lampstand from its place. " – Revelation 2:4-5
As you can read the verses above, clearly shows Jesus rebukes the churches and demands repentance from them (Rev 2:4, 6, 20, 3:3, 15-19).
It is so far from hyper-grace preachers who tell believers to be unaccountable for their sin.
Every Christian must answer to Jesus for their actions and disobedience
"So we make it our goal to please him, whether we are at home in the body or away from it. For we must all appear before the judgment seat of Christ, so that each of us may receive what is due us for the things done while in the body, whether good or bad. " – 2 Corinthians 5:9-10
The Danger of Hyper-Grace Theology
In 1 John 1:9, it gives clear instructions to believers about confessing sin.
" If we confess our sins, he is faithful and just and will forgive us our sins and purify us from all unrighteousness."
You cannot have forgiveness without a confession PERIOD!
If one is to believe , we are already saved by grace and there is no need for repentance. Christians can easily abuse sin and take it God has forgiven me anyway. So it might lead people to give them an idea to have a license to sin.
Hyper-Grace Ignores Old Testament Laws
Some hyper-grace preachers, not all claim the Old Testament and the Ten Commandments are irrelevant to New Testament believers. They teach that Jesus' words spoken before His resurrection are part of the Old Covenant and are no longer applicable to born-again believers. But is this true?
In Mark 13:31, Jesus said, "Heaven and earth will pass away, but my words will never pass away." If Jesus' words which he quotes a lot from the Old Testament as well in His teachings are no longer applicable, why would Jesus say my words will never pass away? And we have been given the Holy Spirit to remind Christians of everything that Jesus has said (John 14:26)
Hyper-Grace is Incomplete
In summary, much of what hyper-grace teaches is valid. I cannot say or claim what they preach is wrong. Yes, we are indeed saved by grace, not by our works ( Eph 2:8-9 ). God's grace is great and overflowing for us ( 1 Tim 1:14 ).
However, hyper-grace teachings are often out of proportion to the rest of Scripture. Often they would preach verses out of context just to fit in their theology of hyper-grace even when they use original Greek or Hebrew to make it sound like it's biblical but it is obviously not when you go deep into the context of the verse.
Any time one doctrine is emphasized to the exclusion of the rest, you will fall into your understanding of the scriptures. And to make it worst, most Christians never READ their bible so they would not know the real truth about the verses that have been abused and emphasized to the extreme giving it a very positive meaning and ignoring all the hard truth of the entire verse.
Jesus was always full of both GRACE and TRUTH
The Word became flesh and made his dwelling among us. We have seen his glory, the glory of the one and only Son, who came from the Father, full of grace and truth. – John 1:14
So I pray as you read this, you must realize the importance to have a good balance of both GRACE and TRUTH. Do not just want to seek GRACE but also have a desire to seek TRUTH too.
What Can You Do Today About Hyper-Grace?
I encourage you to live a life today daily in thankfulness and repentance whenever you sin so that you be accountable to God for the things you done daily.
Always verify every sermon that you hear from your pastor or church.
Open up your bible and read the verse at least 1 or 2 paragraphs before and after the verse and check does the Bible really says what they claim it to be?
Understanding the context of bible verses is important to better understand the bible verse
Get a book to learn how to interpret the Biblical correctly, I highly recommend this textbook that I was trained called "Biblical Interpretation: An Integrated Approach" https://amzn.to/3EXRg6Q
I pray you are encouraged by this sharing, if you did please share this article with your Christian friends and follow us on Social Media.
If you like to support or get more resources to grow your faith check out our ministries' resources http://linktr.ee/gatherfaith  
God Bless
Bro Alvin Phang